Pet accommodation Gauteng nestled away in a peaceful, country environment our kennels are designed with your pet's comfort and safety in mind. Our resident guests will find themselves accommodated in secure units with cosy enclosures and an outdoor area. Many animals crave company and so we endeavour to find suitable room-mates for all those who would enjoy the company of a friend or two during their stay.
Food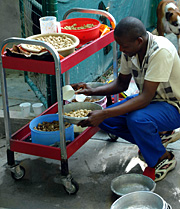 Healthy pets are our primary concern when seeing to our guests' dietary requirements. That is why we have selected the quality range of Royal Canin's Vet's Choice products for their daily meals. When booking in, speak to one of our friendly staff members about which specialized product will best suit your pet, whether it's Sensitive for a dog with skin allergies or Senior for an older kitty. Iams dry food, Whiskas sachets  and pilchards also form part of the diverse menu for our feline borders.
We also know that holiday should be fun too, so we keep tasty and nutritious treats like home-cooked chicken and rice , and beef and chicken gravies available for that extra bit of indulgence.
Heated units
Winters in Joburg can get rather chilly and it's great for our resident guests to be able to snuggle up in their beds under the warmth and soft glow of  infrared heaters.  Providing more than just heat, these lamps are also therapeutic for animals with sore joints and stiff muscles.  So if you need to book your pets in over  a colder period, you can request that they be booked in to one of our heated units.
Play areas
Health and happiness are our two favourite words when it comes to your pets.  Our play areas are there to ensure that our guests get to exercise and play with their friends everyday (or alone if socialisation is not their forte).  All play areas are wide open units with plenty of running space, sunshine and green, shady trees for a bit of rest and relaxation too.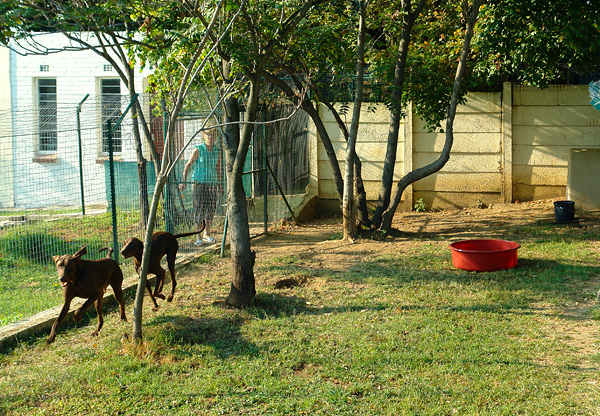 A major source of revenue for the National Elite Black Tuukka Rask Jersey Football League is merchandise. With over 32 teams spread across the United States, the NFL is well positioned to market a wide variety of team related merchandise. Men Authenitc Black Marc Savard Jersey Chris Kelly Jersey From jerseys and Elite Gold Chris Kelly Jersey tee shirts to coozies, stadium seats, and Elite Authenitc Reilly Smith Jersey Black Marc Savard Jersey even high end personalized Men Tuukka Rask Jersey golf club sets, there is Authenitc White Bobby Orr Jersey something available for Elite Jeremy Lauzon Jersey every fan bearing their teams logo. At the heart of this operation is the contract signed with manufacturers and retailers to produce and sell the NFL trademark logo and team logo. However, the marketing push is not solely centered on the United States. It is a worldwide effort. In 2006, for example, the NFL took in over 3.2 billion dollars worldwide in merchandise sales. Replica jerseys by themselves accounted for twenty Elite Gold Reilly Smith Jersey percent of the take. One has only to watch the Youth Jeremy Lauzon Jersey Super Bowl to Kid Chris Kelly Jersey understand the power and money associated with NFL advertising. In 2009, it is estimated that one second will cost a little over one hundred thousand dollars. For a thirty second ad, just Authenitc Gold Chris Kelly Men Bobby Orr Jersey Jersey do the math. There is Authenitc Gold Bobby Orr Jersey money at stake. In fact, demographic research has shown Youth Jeremy Lauzon Jersey that there is a growing number of people who do not even enjoy watching the game of football who gather to watch the commercials featured at commercial breaks and at half time. The payoff is huge for an advertiser who hits a home run. The Kid Reilly Smith Jersey NFL is a spectator sport, and Americans flock to their favorite teams stadium. There is a structured ticket scale which allows just about everyone, regardless of budget, to watch Elite White Marc Savard Jersey their favorite gladiators do battle. From the nose bleed upper deck, to the fifty yard line, to the private booth, tickets range from the forty to fifty dollar range up to the thousands for a booth. While you are at the stadium, don't forget the Coke, nachos, beer, and hot dogs. This is also a good source of revenue for Youth Reilly Smith Jersey the league as you may pay upwards of twenty dollars for a hot dog, nachos and beer.
GB memory? That's because most of the internal memory has been taken up by proprietary apps and other bloatware. It's that rampant. All in all I counted over 35 Authenitc Gold Chris Kelly Jersey apps, if the Breakout was aiming for some sort of bloatware record, I think they got it. Can someone call Guinness? Anyway, a basic run down of apps courtesy of Pantech goes like this Amazon Kindle, Blockbuster, City ID, Lets Golf 2, Converter, DocViewer, Guided Tours, Handy Memo, Mobile IM, NFL Mobile, NSF Shift, Rhapsody, Slacker Radio, Tip Calculator, TuneWiki, and Nuance Voice Control. Those are just Pantech apps, Verizon were kind enough to provide the likes of VCast Music, VCast Tones, VZ Navigator, and Verizon Video apps. Add to the above list the norms such as Google Maps, Gtalk, YouTube, Doc viewer, JAVA, GPS, calculator etc. and you'll never be short of apps, ever. Did I mention the clincher? You can't delete any of the proprietary apps. Let's see if the Breakout has what it takes to stand toe to toe with the Conquer 4G